07 juin 2007
Vue d'ensemble de la maison : Vue sur le Mont Blanc depuis la maison:
(General view of the house) (View of the Mont Blanc from the house)
Bienvenue! Entrez...
(Welcome, come in...)
dans la salle à manger : dans le salon :
(in the dinning room:) (in the living room :)
la cuisine :
(the kitchen)
notre chambre... ... et sa salle de bain :
(our bedroom...) (... and its bathroom)
A l'étage, la mezzanine :
(upstairs, on the mezzanine :)
et 2 des chambres :
(and 2 of rhe bedrooms:)
Choisissez un livre dans la bibliothèque :
(Pick up a book in the bookshelf :)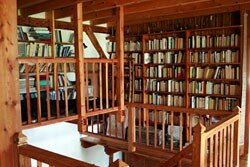 à lire côté terrasse ... ou côté jardin :
(to read on the patio) (or in the garden)
Vous pouvez aussi,simplement, vous réjouir de la vue!
(You can as well just enjoy the view)
06 juin 2007
En novembre 2006 notre chalet a fait la une de "Alpes Magazine" !
(On november 2006, our chalet made "Alpes Magazine" front page!)